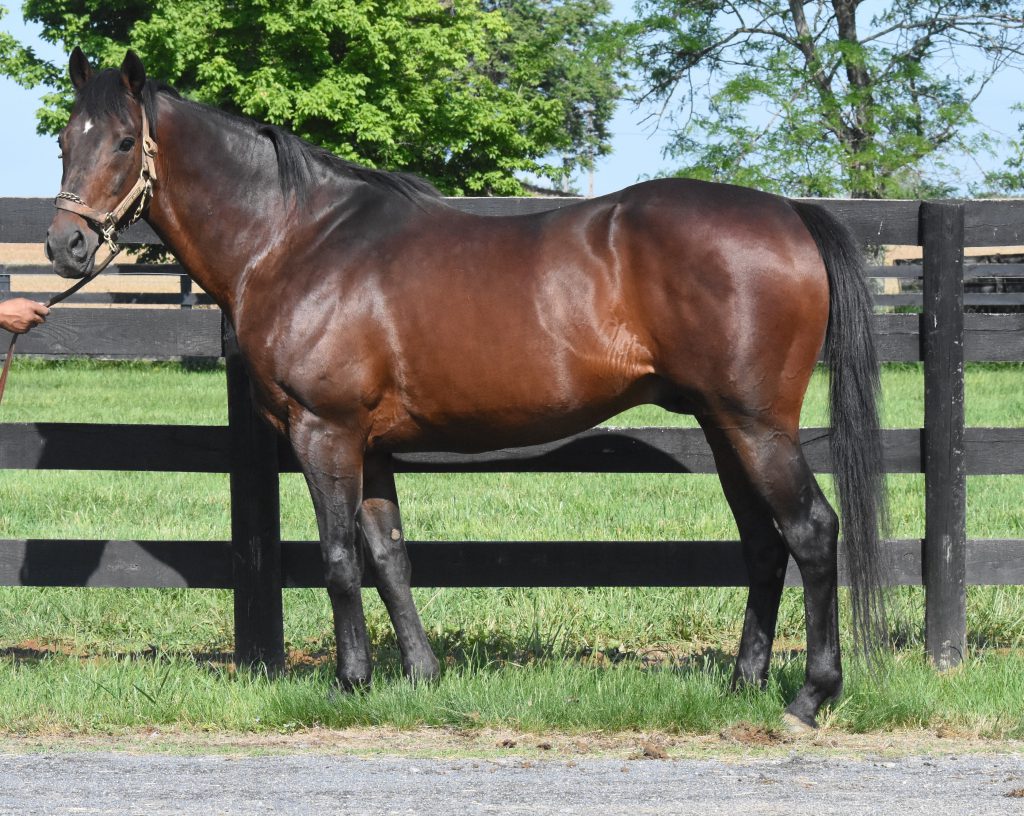 Career earnings of over $591,000
Career-high Equibase E-Figure of 129
At 2
Won Remsen S (gr. II, $200,000, 9f in 1:51.92, by 2½, dftg. Ommadon, Buckle Down Ben, Airy Hill, Griffinite, Muskrat Ramble, The Missing Key, etc.). An allowance race at Sar ($43,000, 6f in 1:11.20).
2nd Nashua S (gr. III, 8f, to Ommadon, dftg. Griffinite, Dayton Flyer, The Goo, Light of Justice, Zloty, Fistfite, Sea of Green, Revved Up). Cowdin S (gr. III, 6.5f, to Fistfite, dftg. American Century, Light of Justice, Hunt Gold, Solitary Vision).
At 3
2nd Dwyer S (gr. II, 8.5f, to E Dubai, dftg. Hero's Tribute, Regal Shivers).
At 4
Won An allowance race at Sar ($51,000, 7f in 1:23.17, by 5½).
2nd
Excelsior Breeders' Cup H (gr. III, 9f, to John Little, dftg. Ground Storm, Evening Attire, etc.).
Stuyvesant H (gr. III, 9f, to Snake Mountain, dftg. Docent, Cat's At Home, Runspastum, Coyote Lakes, Griffinite, Country Be Gold, Open Sesame, Burning Roma).
3rd
Meadowlands Cup H (gr. II, 9f, to Burning Roma, Volponi, dftg. Bowman's Band, Include, etc.).
Creme Fraiche H (gr. III, 8.5f, to Hal's Hope, American Halo, dftg. Rize, Deferred Comp, Best of the Rest, etc.).
At 5
Won Hal's Hope H (gr. III, $100,000, 8.5f in 1:42.33, dftg. Saint Verre, Najran, Hero's Tribute, American Style, Hail The Chief, Dream Run, Speed Hunter).
Won William Donald Schaefer H (gr. III, $100,000, 9f in 1:50.08, dftg. Changeintheweather, Tempest Fugit, P Day, Pickupspeed, Full Brush, Strive, Roger E).
2018 fee – $2,000
Stallion synopsis for Windsor Castle (Lord Carson – Frigidette, by Its Freezing)
Prepared for Taylor Mountain Farm by Jared Gollnitz
Windsor Castle was a top-class runner who has continued to be a leading sire in West Virginia. He has a wonderful pedigree that sets up perfectly for returns of bloodlines that are easy to find in broodmares. Among these returns are La Troienne, Nijinsky II, T. V. Lark, Boudoir II (to whom Frigidette is already linebred), and Somethingroyal, dam of Secretariat, and Mr. Prospector, just to name several. For the sake of simplicity, we'll stick with these target ancestors and who the likely candidates are to return to them.
Look no further than millionaire Down Town Allen and multiple stakes winner Greenway Court to prove these affinities, both returning at least 2 or more of the aforementioned players. The most prime candidate for return is A.P. Indy, who has La Troienne, Somethingroyal (both in multiples), as well as Tourbillon*, who is a prime candidate for traveling with La Troienne and Domino. Another target that is prime for return is Roman, who is found in several places in the gene pool. Roman carries full siblings Ormonde and Ornament, also found in La Troienne. With Windsor Castle's two lines of Mahmoud and at least one La Troienne, Forty Niner, who has a plethora of Family 16 matriarch, Ornament, Windsor Castle is set up perfectly for more Family 16. Greenway Court illustrates this point perfectly by his introduction of Caro, who carries 4 lines of another Family 16 powerhouse, Kendal.
Quantity is good, but variety is better. Once she arrived in the U.S., the great La Troienne was never bred to a sire free of Domino. The most potent source of Domino was Bubbling Over, to whom she produced Baby League. Baby League produced full siblings Striking, Busher, and their brother Mr. Busher, all carrying 4 lines of Domino. A mare named My Charmer was inbred to full sisters Striking and Busher, and produced Triple Crown winner Seattle Slew when bred to Bold Reasoning, who, as you can guess, brought in no less than 14 lines of Domino blood, Discovery (who has more of Domino's family than Domino himself), and more Family 16 via Hail To Reason. Coming forward, Buckpasser serves two purposes when introduced to Windsor Castle. First, Buckpasser is a female-line descendant of La Troienne. Second, Buckpasser is a genetic equivalent to Nijinsky II. If you look at their pedigrees, they are close to being inverses of each other. Both could get 12 furlongs (1 1/2 miles) easily and add stamina to any mating.
Mares with Officer bring in much, much more Discovery, who can also be found in Native Dancer, Hasty Road, Bold Ruler, and Intentionally, sire of In Reality.
Another genetic equivalent to Nijinsky II is Storm Bird, who can be found readily via Storm Cat, but I would much prefer see a daughter strain of Storm Bird. Daughters of Birdstone set up this scenario perfectly, bringing more La Troienne through Unbridled and a daughter strain of Storm Bird through his dam, Dear Birdie, as well as another line of Mr. Prospector and a line of Prince John, both of whom carry sisters to Domino.
The possibilities are endless, and a couple other lines I'd like to see brought to Windsor Castle include full brothers Graustark and His Majesty, both out of Flower Bowl (daughter of Boudoir II) and Olympia, all of whom are easily found. Olympia is a guaranteed speed and stamina influence and is responsible for the likes of Danzig, California Chrome, American Pharoah, and others. Prince John carries a sister to Domino and goes well with any La Troienne or Domino.
If you need more proof of the dominance of the ALL of the Family 16 card-carrying members and their accomplices like Caro, Forty Niner, Olympia, La Troienne, Prince John, Mr. Prospector, and others, look no further than current super-star, Arrogate. He has them all, and even traces his direct female line straight to the Queen Mother of Family 16 herself, Agnes.